BEST BREAKFAST ON SALT SPRING ISLAND
Full Country Breakfast
We have become famous on the island for our breakfasts.
We start you off with:
fresh ground coffee or tea
fruit juice.
Either,
fresh fruit plates
baked grapefruit/apples/pears
mixed fruit medley
fresh berries, house made granola and yogurt
fruit filled crepes and compotes
Followed by Quarrystone's Famous Muffins and either:
herbed cheese scones stuffed with caramelized red onions and brie,
croissants
cinnamon buns
apple and/or cherry strudels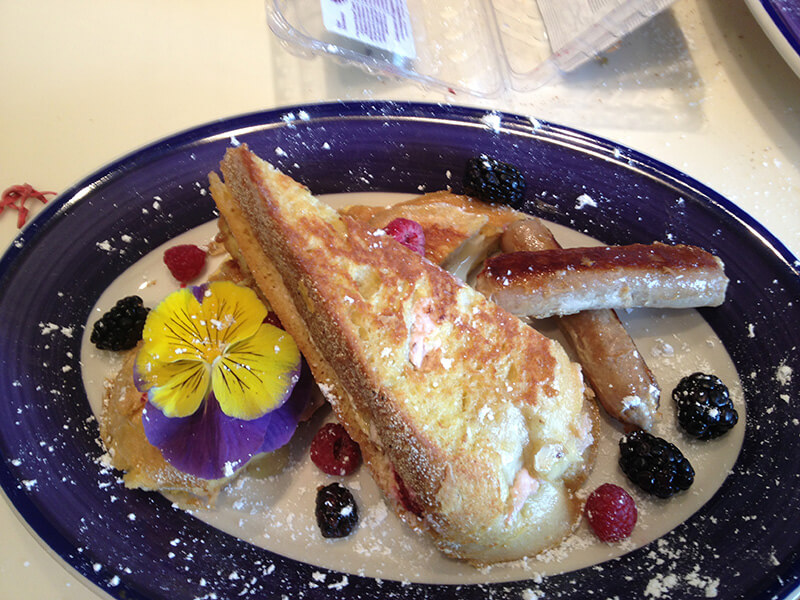 For the main entrée typically you can expect……
• Three free range egg omlette filled with spinach, mushrooms, asparagus, Salt Spring feta.
• Herbed scrambled eggs with smoked salmon, purple onion, capers and cream cheese on a mini bagel
• Traditional Eggs Benedict, avacado/shrimp, spinach/tomatoe/goat cheese
• Stuffed French toast with brie, blackberries, strawberries and a triple berry cream cheese.
• Crepes filled with wild mushrooms, pancetta, farm fresh eggs and chives
• Phyllo roll with ricotta cheese, crab, lobster, braised leeks and fresh herbs
• Buckwheat blinis with warm bing cherries and crème fraiche
• Smoked Salmon Crepe Torte
Our side plate offerings…
All of the above served with either hand cut and baked hash browns, potatoe latkes with crème fraiche or baby new potatoes and fresh herbs.
Either country pork sausage, Saltspring Lamb sausage, thick double smoked bacon, honey cured ham….
A medley of juilienned sautéed vegetables, or grilled and roasted peppers, zucchini and mushrooms with a balsamic reduction, or broiled parmesan and pesto tomatoes and asperagus or perhaps portabello mushrooms stuffed with Saltspring goat cheese and spinach….
Whether Vegan, Celiac, Vegetarian or Meatetarian there is no dietary need that we cannot match!!…(with advanced notice in some cases)
All menu items are, whenever possible,  locally grown (including our own garden), free-range and organic